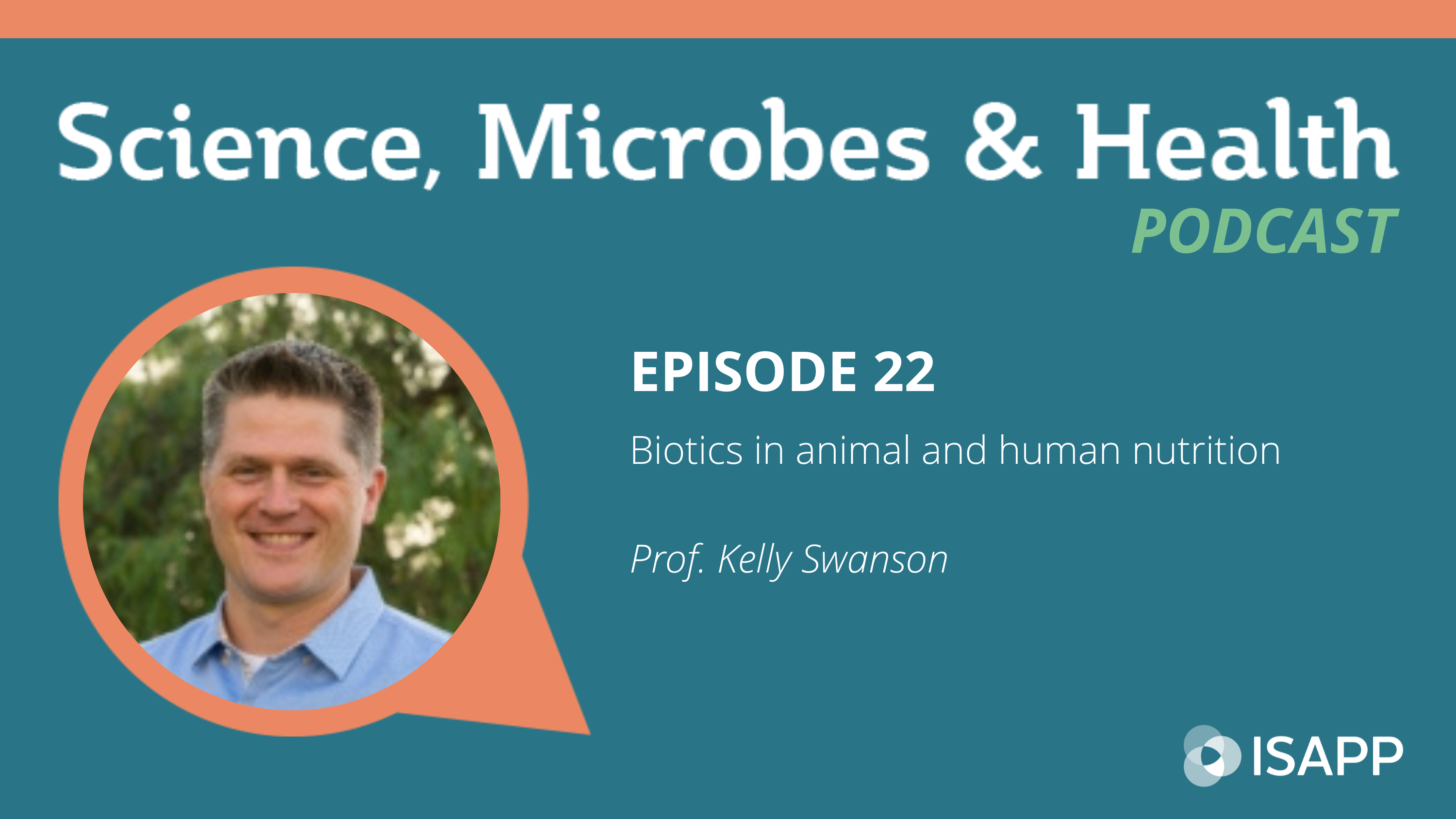 Podcast: Play in new window | Download
Subscribe: Apple Podcasts | Google Podcasts | Spotify | RSS
The Science, Microbes & Health Podcast 
This podcast covers emerging topics and challenges in the science of probiotics, prebiotics, synbiotics, postbiotics and fermented foods. This is the podcast of The International Scientific Association for Probiotics and Prebiotics (ISAPP), a nonprofit scientific organization dedicated to advancing the science of these fields.
Biotics in animal and human nutrition, with Prof. Kelly Swanson
Episode summary:
In this episode, the ISAPP podcast hosts join guest Prof. Kelly Swanson PhD from University of Illinois at Urbana-Champaign, to discuss the role of biotics in animal and human nutrition. They review the criteria for prebiotics and synbiotics, then discuss how we gain knowledge about nutrition and the role of biotics in animals compared to humans.
Key topics from this episode:
A good argument can be made that biotics are essential for our diet; they are beneficial even if efficacy is sometimes difficult to prove.

Nutrients have an impact on the host's health and simultaneously on the host-associated microbes.

Health benefits are essential to the FDA definition of fiber.

Antibiotics' effect on the microbiota: short-term effects may be minor, but we still don't know the long-term effects.

The synbiotics definition, criteria for products to meet this definition, and the health outcomes from using these biotic substances.

The difference between complementary and synergistic synbiotics.

When studying biotics in companion animals (cats and dogs), can results from one host be extrapolated to another host? Final studies should be in the target host.

Biotics are important in veterinary medicine and a popular topic of study.

Predictions about the future of nutrition science as informed by the microbiome.
Episode links:
Additional resources:
About Prof. Kelly Swanson:

Kelly Swanson is the Kraft Heinz Company Endowed Professor in Human Nutrition at the University of Illinois at Urbana-Champaign. His laboratory studies the effects of nutritional interventions, identifying how diet impacts host physiology and gut microbiota. His lab's primary emphasis is on gastrointestinal health and obesity in dogs, cats, and humans. Much of his work has focused on dietary fibers and 'biotics'. Kelly has trained over 40 graduate students and postdocs, published over 235 peer-reviewed manuscripts, and given over 150 invited lectures at scientific conferences. He is an active instructor, teaching 3-4 nutrition courses annually, and has been named to the university's 'List of Teachers Ranked as Excellent by Their Students' 30 times. He serves on advisory boards for many companies in the human and pet food industries and non-profit organizations, including the Institute for the Advancement of Food and Nutrition Sciences and International Scientific Association for Probiotics and Prebiotics.
https://isappscience.org/wp-content/uploads/2023/05/ep22-s2-Swanson-sm.png
864
864
Laura
https://isappscience.org/wp-content/uploads/2021/06/ISAPP_LogoRedsign_horz.png
Laura
2023-05-09 17:30:15
2023-07-18 18:31:25
Episode 22: Biotics in animal and human nutrition